The Yomiuri Shimbun Group's Main Facilities
The Yomiuri Shimbun Building
As well as being the center of The Yomiuri Shimbun's publishing operations, The Yomiuri Shimbun Building, located in the Tokyo business district Otemachi, also serves as a facility equipped with spaces for public use such as large halls and galleries.
The building is 200 meters tall and composed of 33 floors above ground level and three underground floors. Equipped with the most sophisticated antidisaster technologies including vibration-damping construction which absorbs the energy produced by an earthquake, the building was constructed to withstand earthquakes and other disasters ensuring newspaper publication may proceed even at times of major disasters equivalent in scale to the 2011 Great East Japan Earthquake. The Yomiuri Shimbun has an agreement with the municipal government of Chiyoda Ward, where our headquarters is located, that the building can be used to temporarily accommodate approximately 1,000 people unable to return home or travel in the event of a disaster.
Furthermore, consideration has been given to the environment in the building's design. The 560-square-meter lower-level rooftop garden, a countermeasure to the urban heat island effect, is a prime example of such consideration.
Yomiuri Otemachi Hall (Floors 4 and 5)
Yomiuri Otemachi Hall is a multipurpose theater hall with a seating capacity of 501. The hall can be used as a venue for a wide variety of events, from classical music concerts to preview screenings of movies, traditional art performances and symposiums. The unique form of the hall's walls, created by stacking wooden half cylinders on top of one another, reflects sound from the stage in all directions, giving the venue excellent acoustics.
News Lab (3rd floor)
News Lab is a facility providing an environment for visitors to learn about newspapers in a fun and exciting way. Using the latest AR (augmented reality) digital imaging technology, visitors can gather information for a mock story from a mock town and experience a simulated press conference. There is also a display area which makes use of videos and models to detail the history of The Yomiuri Shimbun and the newspaper printing process.
Yomiuri Clinic (6th floor)
Yomiuri Clinic is a medical facility open to the community. The clinic specializes in six medical fields: internal medicine, orthopedic surgery, otorhinolaryngology, dermatology, otolaryngology and psychosomatic medicine. Both company employees and members of the public can use their insurance to consult doctors at the facility.
Yomikaki no Mori Nursery
Yomikaki no Mori is a workplace nursery accommodating children aged from 57 days until school age. This service is available not only for children of Yomiuri Shimbun employees, but also for employees of contracted companies nearby. The nursery is the first workplace nursery in the Japanese newspaper industry.
The Yomiuri Osaka Building
The Yomiuri Osaka Building accommodates the headquarters of The Yomiuri Shimbun, Osaka, one of the newspaper production bases for The Yomiuri Shimbun. The building, surrounded by open space dotted with greenery, has 14 floors above ground level and 2 underground floors. A gallery is on the first underground floor.
Gallery Yomiuri
Gallery Yomiuri, accommodating about 180 people, is available for various kinds of events such as lecture meetings, seminars and workshops. Users can place desks and chairs freely in this space.
Y Square
Y Square is a Yomiuri Shimbun special exhibition space that displays posters and photos.Please feel free to drop by and look around.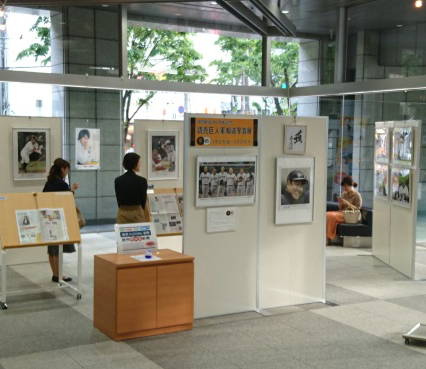 Halls
Yurakucho Yomiuri Hall

1,100-seat hall located in the Yomiuri Kaikan in Yurakucho, Tokyo

Yomiuri Otemachi Hall

501-seat hall located in the Yoimuri Shimbun Building in Otemachi, Tokyo
Commercial Facilities
Marronnier Gate Ginza 1, 2, 3
These shopping facilities are located on the entrance of Ginza Marronnier-dori street lined with luxury brand boutiques in the Ginza district of Tokyo. Marronnier Gate 1 houses fashionable restaurants and apparel shops for men and women. Marronnier Gate 2 and 3 target mainly women in their 20s to 40s, who seek ideas on fashionable living.
Yomiuri-Kaikan Building
A commercial building located in Yurakucho, Tokyo. Floors 1 through 6: commercial zone. Floors 7 through 9: movie theater and Yurakucho Yomiuri Hall. The Yurakucho Yomiuri Hall has 1,100 seats (522 on the first floor and 578 on the second floor) and is widely used for concerts, rakugo (traditional dialogue-style comedy), lectures, and film previews.
Yomiuri Shimbun Nagoya Building(Courtyard by Marriott Nagoya hotel)
The hotel opened in March 2022 at the site of the former office building of the Chubu branch (Naka Ward, Nagoya City). It consists of 12 floors above ground, a floor below ground, and 360 guest rooms. It even has banquet halls and meeting rooms, which are perfect for wedding receptions and businesses. The land and property are owned by the Yomiuri Shimbun Tokyo Headquarters.
SENRITO Yomiuri
SENRITO Yomiuri is a commercial facility run by The Yomiuri Shimbun Osaka and The Yomiuri Telecasting Corporation in Toyonaka City in northern Osaka Prefecture. It fully opened in April 2017, with about 60 restaurants, supermarkets and other shops in operation. In March 2019, the Kansai Electric Power group, a joint enterprise, finished a high-rise condominium building, completing a new block called "SENRITO". We have established in the building a "SENRITO Yomiuri Hall" that can be used for events.
Recreational Facilities
Yomiuri Land
Yomiuri Land is a pioneering Japanese recreational facility opened in 1964. Operated by Yomiuri Land Co., Ltd., the facility is composed of an amusement park, pool, hot spring facility, and golf driving range.
* Yomiuri Land Co., Ltd. also operates golf courses in the suburbs of Tokyo and other areas. Yomiuri Golf, operating out of Hyogo in the Kansai area, runs several golf courses in the local area.
Medical and Care Facilities
Yomiuri Clinic
Medical facility located in the Yomiuri Shimbun Building in Otemachi, Tokyo.
Yomiuri Land Care Center
Yomiuri Land Care Center is a health services facility for the elderly equipped with 150 beds and located in Kawasaki, a short distance from Tokyo. It is operated by the social welfare corporation Yomiuri Light and Humanity Association.
Yomiuri Land Hana House
Hana House is a nursing home for the elderly equipped with 160 beds and located in Kawasaki, a short distance from Tokyo. It is operated by the social welfare corporation Yomiuri Light and Humanity Association.